Knowledge Base
PingPlotter's font is too small to read on a high definition display
Question
I just installed PingPlotter, but all of the text shows up as tiny on my HD display. Other programs seem to show up just fine. What can I do to make things readable?
Solution
Note: This article only applies to PingPlotter version 3.4 releases. The current version 4 releases should work without this modification!
Here's how to work around this problem:
From the "Start" menu - access your PingPlotter Pro program group ("Start" -> "All Programs" -> "PingPlotter"), and then right click on the PingPlotter shortcut and select "Properties."
On the properties window that comes up - select the "Compatibility" tab, under the "Settings" section - select the option to "Disable display scaling on high DPI settings":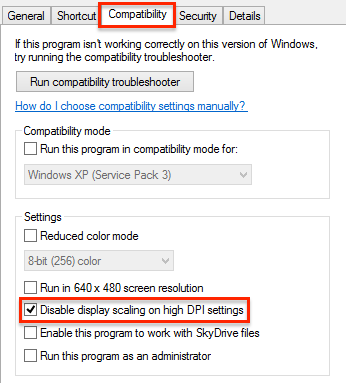 Once you've done this, close and restart PingPlotter. Upon relaunch, the text in the program *should* be at a more readable level.
There are a few caveats when going this route: some portions of the program may not scale correctly (icons, etc), and column sizes will need to be re-adjusted after relaunching the program.
If you should run into any issues with this workaround, please don't hesitate to contact us at support@pingman.com.
---